"It never gets easier, you just go faster."
– Greg LeMond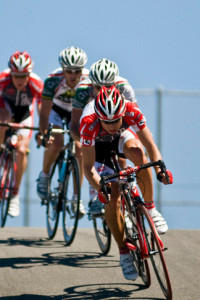 When I'm not doing research, I'm doing other stuff. No seriously. But most of the time I'm riding my bike.
I started the whole cycling phase of my life in the fall of 2005 when I moved to Davis for graduate school. During the last couple of years I've raced on the road for UC Davis and the local Davis Bike Club.
This year I'm riding for the Kenda Pro Cycling Team and am looking forward to winning with this new team.
Below you'll find notable cycling results, I use the word notable loosely, as well as some information about my running days.
Notable 2011 Results
| | |
| --- | --- |
| 1st | Paskenta Century |
| 3rd | Merco Stage 1 |
| 4th | Joe Martin Stage 1 |
| 9th | Joe Martin Overall |
Notable 2010 Results
| | |
| --- | --- |
| 1st | Mt. Hood PIR Prologue |
| 1st | Sea Otter Road Race |
| 1st | Sea Otter Circuit Race |
| 1st | Ben Hur Time Trial |
| 2nd | Madera Stage Race |
| 2nd | Mt. Hood Time Trial |
| 2nd | Nevada City Classic |

| | |
| --- | --- |
| 3rd | Fitchburg Road Race |
| 3rd | San Dimas Stage Race |
| 4th | Mt. Hood Cycling Classic |
| 10th | Redlands Bicycle Classic |
Notable 2009 Results
Collegiate Mens A

| | |
| --- | --- |
| 1st | Nationals TTT |
| 1st | Nationals Team Omnium |
| 1st | WCCC Conference Crit |
| 1st | WCCC Conference TTT |
| 1st | UCSC RR |
| 1st | UCSC Hill Climb |
| 1st | Nevada Reno Crit |
| 2nd | WCCC Conference RR |
| 2nd | WCCC Men's A Omnium |
| 3rd | Nevada Reno RR |
| 5th | UCSC Street Sprints |

With Bissell

| | |
| --- | --- |
| 1st | District Time Trial |
| 1st | District Road Race |
| 1st | Mt. Hood Cycling Classic |
| 1st | Cherry Blossom SR |
| 1st | Kingsbury Hill Climb TT |
| 1st | Geiger Grade Hill Climb TT |
| 1st | Mt. Rose Hill Climb TT |
| 1st | Mt. Hamilton KOM |
| 2nd | Sea Otter Road Race |
| 2nd | Mt. Hamilton RR |
| 7th | San Dimas Stage 1 |
| 8th | Nevada City Classic |
| 16th | Tour of the Gila |
Notable 2008 Results
Collegiate Mens A

| | |
| --- | --- |
| 1st | Nationals TTT |
| 1st | WCCC Conference Crit |
| 1st | WCCC Conference TTT |
| 1st | UCSC HCTT |
| 1st | UCSC RR |
| 1st | Stanford RR |
| 1st | UCLA RR |
| 1st | UCLA ITT |
| 2nd | Nationals Road Race |
| 2nd | WCCC Men's A Omnium |
| 5th | WCCC Conference RR |
| 7th | Nationals Individual Omnium |

As a Cat 1

| | |
| --- | --- |
| 1st | Mt. Hamilton RR |
| 1st | Mt. Hamilton KOM |
| 2nd | District Time Trial |
| 6th | Tour de Nez Circuit Race |
| 8th | Nevada City Classic |
| 8th | Tour de Nez GC |
| 9th | Tour de Nez Road Race |



Cat 2

| | |
| --- | --- |
| 1st | San Dimas Stage 1 |
| 1st | San Dimas GC |
| 1st | San Dimas KOM |
| 4th | Merco Foothills RR |
| 6th | Valley of the Sun TT |
| 7th | Valley of the Sun GC |
| 8th | San Dimas Stage 2 |
Notable 2007 Results
Collegiate Mens A

| | |
| --- | --- |
| 1st | UCLA RR |
| 1st | UCSC RR |
| 1st | UCSC Hill Climb |
| 1st | UCB RR |
| 2nd | WCCC Conference RR |
| 3rd | WCCC Men's A Omnium |
| 4th | Nevada Reno Crit |
| 4th | Nevada Reno RR |
| 9th | WCCC Conference Crit |

Cat 2

| | |
| --- | --- |
| 4th | Wente Vineyards RR |
| 6th | Cooperopolis RR |



Cat 3

| | |
| --- | --- |
| 1st | San Dimas Stage 1 |
| 1st | San Dimas GC |
| 1st | San Dimas KOM |
| 3rd | Snelling RR |
| 3rd | San Dimas Stage 2 |
Notable 2006 Results
Collegiate Mens B

| | |
| --- | --- |
| 1st | UCB RR |
| 1st | Stanford RR |
| 1st | UCSC RR |
| 1st | UCSC Hill Climb |
| 6th | WCCC Men's B Omnium |
| 11th | WCCC Conference Crit |

Cat 3
Cat 4

| | |
| --- | --- |
| 1st | Sea Otter Classic RR |
| 4th | Pine Flat RR |


Cat 5

| | |
| --- | --- |
| 1st | Early Bird RR (my first RR) |
Pictures
NCAA Track and Field
Pictures
Notable Results and Awards