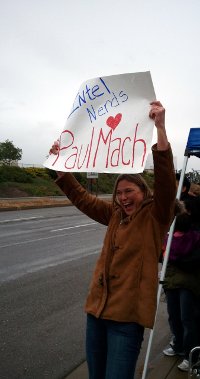 So we raced to Modesto today in the
Tour of California
.
Yesterday I tried the first attack strategy. Today, I decided to wait and it was the first attack that formed the break. That was kind of underwhelming. All that anticipation and I didn't even get to attack.
There's an interesting article on
Podium Insight
about what it's like getting into break. It pretty much tells it how it is.
Anyway, so then it was 5 hours of just hanging out. What do you do for 5 hours on drafting. Well, I did some math, 1.5 hours, 50km into a 200km stage. That's when I started thinking about food.
So after 5 hours we hit some cross winds and started racing. It was kind of a wake up call. I ended up in a rather large chase group that caught back on eventually. Then I rolled it into the finish trying to stay out of trouble.
Also, thanks for all the support and cheering out there. The "Intel nerds love Paul Mach" sign was awesome. Thanks to Stan and Melanie for that.
Overall, it's been a rather slow start to the Tour. Half day, long head wind day. Tomorrow that will change with lots of climbs and a GC shake up on tap.
Comments