I can't be the only one asking why
Saturday, August 21, 2010 -
General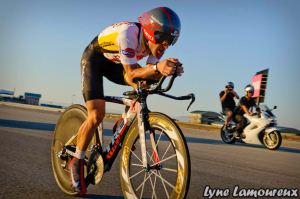 Bib shorts over the jersey, that's weird. I don't know if it's banned in
The Official Rules of the Euro Cyclist
but I'm sure it's at least implied.
I once saw a guy wear his skin suit inside out to please his "sponsors." Yep, shammy on the outside. I've even put the pins on the inside of my skinsuit to be more aero. But bib shorts over the jersey is just plain weird.
Now consider that
Levi
is about a minute up on the GC that he's
not even riding for
. It begs the obvious question, why?
Maybe I'm over stepping my bounds by calling out the guy that is schooling everyone here in Utah, but I can't be the only one asking about this.
For those interested there is
time gap data
between me and
Ian
from yesterday's TT.
Comments