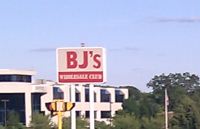 JV:
Oh cool, they have a BJ's here.
AJM:
Really? Are they good?
JV:
Well, have you ever had any bad BJs?
You see, it's all about the teamwork. A setup is always required for optimal results. There was a bit of drama with that on the roads in
Fitchburg
today.
So 9 laps, 100 miles, good climb at the start finish. With like 4 to go, I put in a dig up the climb to try and split the group. It kind of worked but a few miles later there was a group of 20 chasing the break with just me from
Bissell
.
That move ended up finishing minutes ahead of the field. Kyle and Jeremy were in the initial break so we had 3, but it wasn't ideal.
After the race I got in a little bit of trouble for not making sure teammates were nearby before I made my move.
Well, in my defense, a group of 20 goes up the road and we only have one guy in it? It doesn't matter who did what, we should have had more numbers.
The last lap was chaotic, as you'd expect. Lots of attacks all around. Up the last climb I managed to latch on to the Kelly Benefit train and just hung on. I finished second in the bunch behind David Veilleux, third overall. My first NRC podium. Yippee!
The winner, Aurelien Passeron, rode the 2008 Tour de France for
Saunier Duval-Scott
. Now, was that a glorious year or what?
Anyway, tomorrow offers a 9 mile TT. It'll be hot because the TV won't stop talking about how there's a 90 degree heat wave coming. Give me a break, 90 degree heat wave?
Comments