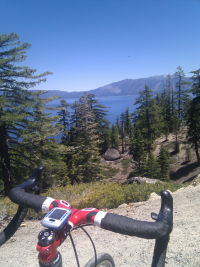 Last weekend, to escape the Davis heat, I headed up to Tahoe for a ride. While circumnavigating the lake I took this classic
Burke
shot (
1
2
3
).
Funny thing is, to take the picture I had to get off my bike and stand behind it. Seems like Burke's "I'll just casually take a sweet iPhone picture with my bike to show I rode up here" pics aren't so casual after all.
I also participated in
Sierra Nevada Hill Climb TT #2
. It was a nice little climb up Mt. Rose from the Lake Tahoe side. I ended up second... to Jesse Miller-Smith... a cat. 2... who had just finished working the night shift..... I'm not going to lie, I cried a little bit.
As a side that note, one of my wife's students used that last phrase as a supporting argument while asking for more time on a test. I guess even Davis High has its share of bad apples...
roast
!
For those of you that bothered to read this far, I have some extra special news for you. Well, more like rumors,
Tour de Nez
rumors.
First, next year they plan on having the prologue start inside the casino, you'll zoom past the all the slots before heading outside.
Next, they want to add a road race. Something that should be made easier with a changing of the guard at Tahoe's CHP.
Lastly, I heard the Truckee crit was canceled because they couldn't find any local businesses to sponsor. Sad times we live in.
Of course those are all rumors, rumors about a race 11.5 months away.
Comments