Nevada City gets its Bissell deep clean
The first thing I heard when the wife and I got to Nevada City was, "I don't get cycling, all they do is sit there and zoom by." Hey dude with beer and confederate flag, 7 words: National Association for Stock Car Auto Racing.
So yesterday was Father's Day, but it was also
Nevada City Classic
day. It was a hard race, but I guess most races worth remembering are, and this one was pretty sweet. There was chalk on the roads and the cheering was off the hook.
At one point, someone on the inside of the top left hander chanted, "Paul Mach," like 10 times in rapid succession. It worked so well that
Burke Swindlehurst
stopped pedaling and looked around confused. Good work out there everyone.
It took about 45 minutes for a break to form. I put in one of those, I'm so dead I hope everyone else is, kind of attacks. I was soon joined by Burke, Floyd Landis, Zach Davies,
Ian Boswell
and
Adam Switters
. Once Ian was there we put in a couple digs up the climb to establish the break.
Towards the end Burke attacked and got a lot of time on us. We played games for a bit 'cause we were all tired. But, in the end, I had to recognize that since we had two in the break,
Bissell
was going to have to bring him back. At about 5 to go I laid it down for a few laps and with help from Floyd we managed to catch Burke.
On the last lap, Zach attacked and I gave chase but was exploding. I looked back to see only Ian on my wheel so I buried it to get him as far up as possible. In that moment, right at the top, Ian came through and attacked for the win, it was impressive.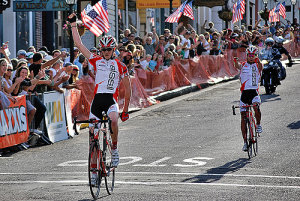 It was a big win for 19-year-old Ian Boswell, who, for the record, had been racing bikes longer than me.
His Dad was so excited that all he could talk about was how this might mean he won't have to pay his kid's car insurance anymore. Now that would be a sweet Father's Day gift.
Comments