Paskenta: the Moore, Mach show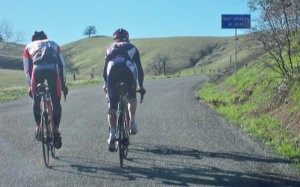 Last weekend, while most of NorCal was at
Cherry Pie
, I headed up to Chico for the
Paskenta Century
. It was a
hecka
early morning but I figured the longer ride would be fun and it was also a chance to ride with my new
Bissell
teammate
Ian Boswell
. The event is a Super Bowl Sunday classic taken very, very seriously by the locals.
As for the
race
ride, the first part was dramatic but not climactic. Ian spent it getting a flat and chasing back on. I spent it learning that there wasn't any wind to break things up. Thus, forcing more creative racing.
This creative racing resulted in a 60 mile break that started with 5 riders but dwindled down to just me and Jesse for the last 25 miles.
So how did it happen that two, well-marked riders got off the front on an almost totally flat course? Well, I'm going to tell you, because it's my blog and I'm really proud of it.
First, Jesse lit up a wicked counter attack to get off the front. Perfect, because he wasn't coming back by himself so I just needed to find a way to get up there with just a few others.
It took a while, but the perfect situation finally formed; 2 small chase groups, just within reach. I attacked and bridged up to the first one. The peloton responded, as always, and caught us. As the tired guys were sitting up and blocking the fresh guys, I countered and bridged to the next group.
We worked well together for a few minutes till we caught Jesse, and that was the start of 2+ hours of hard riding. After what I'm sure was a 2 hour max power record I was pretty cracked, but Jesse just kept motoring on. So it was not surprising that Jesse won the sprint.
And that's how
Jesse Moore
took his second Paskenta victory in row.
Comments