Belated analysis of Tour de France Stage 6
Friday, August 28, 2009 -
Tech
I had a few low key days this week and used the time to finish up a little project. I've always wanted to see how the time between the break and field changes throughout a race. Now with all the GPS data out there, all I needed was a little program.
Garmin
has posted some of their
data
from the Tour, but only a few stages have two files to compare. Stage 6 was pretty dramatic for Garmin and it has two files, David Millar and Julian Dean.
You can read the
full report
, but here's a summary. 113 miles from Girona to Barcelona. Garmin's Millar got in the break but then attacked it when the gap went down from over 4 minutes to less than 1. There were still 18 miles left and he tried to do it solo. Unfortunately he got caught with just a kilometer to go.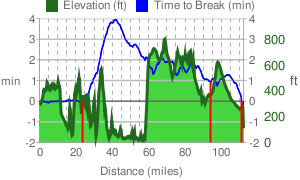 Here's the graph, click to see in more details. The green is the course profile and the blue is the time from Dean to Millar. This is basically the time from the field to the break.
The first red vertical line marks when the break was formed. You can tell the field must have sat up as the gap went up pretty fast.
After that biggest climb of the day the gap starts to go down. It also starts to correlate well with the profile. The break lost time up the climbs but got it back on the descents.
The second red vertical line marks where Millar attacked the break. He got a few seconds but then lost almost 20 up the last cat. 4 climb. The gap went up a bit on the descent, but his lead was doomed.
It's also funny to see how once he got caught (last vertical line), he just pulls the plug and finishes 1:21 down. A brilliant ride by Millar, but it appears he lost it up that last climb.
It's cool to see how the gap changes on the climbs and descents but there is more you could do. With the right data, you could compare time trials and overlay the course curvature to see who takes corners better. That would be cool.
I tired to find a similar tool online but Google didn't turn up anything. I wasn't sure what to search for. Does anyone know of one?
Comments