Thursday, August 6, 2009 -
Tech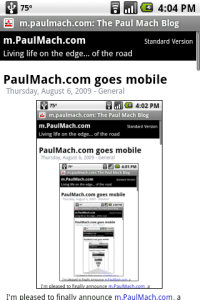 I'm pleased to finally announce
m.PaulMach.com
, a version of this site specifically designed for mobile phones. The future is mobile and at
PaulMach.com
that future is now.
About 6.22% of visitors here use a mobile phone. That's 6.22% that find it necessary to check PaulMach.com while waiting for coffee, commuting or even riding their bikes. These are people who can't wait to get their hands on the new content. So m.PaulMach.com was created to give these enthusiastic people the viewing experience they deserve.
So what's the benefit of the mobile site? Two things, it's designed for a smaller screen and loads faster. You get less squishing and horizontal scrolling in about 35% of the time.
A few people have asked, "How hard is it to make a mobile site?" Well, it can be tricky, especially if you're trying to please everyone with a tiny flip phone. To simplify, I focused on more powerful smart phones with bigger screens like the
iPhone
,
G1
,
Storm
and
Pre
. But it's basically just a different template keeping in mind the smaller screen.
I hope that at least 6.22% of you will find this new feature useful. If you have any issues, or if things don't work as you'd expect, please let me know.
Comments