Nevada City - You Make Me so Hot
This race was insane, thousands of people lining the course and hanging out of windows. It was so loud coming up the climb that I couldn't feel my legs burning.
Even
PaulMach.com
was there.
Lance
couldn't have missed it 'cause it was written on the pavement right in front of him.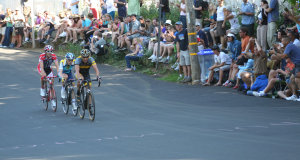 Crazy what can happen in a week. There were only 20 guys preregistered for
the race
, but when we got to the line there were 125 guys. I'm guessing a lot people went
multiball
when they heard Lance was coming and started thinking...
I want to drive you into the corner
And kiss you without a sound
I want to stay this way forever
I'll say it loud

(But) now you're in and you can't get out (until you get pulled I guess)
Avril Lavigne's
words, not mine.
Anyway, I got a call up but it was a real fight during the first few laps.
Levi
and Lance attacked off the front and
Ben
was up there to follow. I was about 20 guys back. Normally I'd be happy with that but it was obvious Lance would try to get off ASAP to avoid crashing in the corners. I should have been up there.
So 2 groups of 3 got off the front. With Ben up the road, I was just covering stuff and it didn't take long for the break to get over a minute. That's when I figured I could start racing again. I tried some stuff but nobody really wanted to make a break happen.
That was okay because as Lance, Levi and Ben caught riders some would just latch on. So when we got caught with about 10 laps to go there was a group of 20 or so again. I wasn't really sure what to do at this point. I got a vibe from Ben that having a lapped teammate help him out would be lame, but I was still racing against those other guys and wasn't interested in a down hill 50 mph field sprint.
The defining part of my race was when I attacked with 5 to go. The intention was to get away from the other guys, but actually I was bridging up to the Lance Armstrong. He was a lap ahead, but it didn't matter. Levi ended up chasing me down because he thought I had been with him the whole time, and not Ben. Must have been all that PaulMach.com yelling. Nice work!
In the end Ben got second, sandwiched by the Super Friends Lance and Levi. I was 8th, same as last year, but against a much tougher field. However, the man of the match was Graham Howard. He only raced 3 laps but grabbed the first lap prime for a house boat vacation valued at $5000.
Similar to
last year
, popular music describes by post race feelings best. Levi...
You make me so hot, make me wanna stop
You're so ridiculous, I will surely drop
I can hardly breathe, you make me wanna scream
You're so fabulous, you're so good to me baby, baby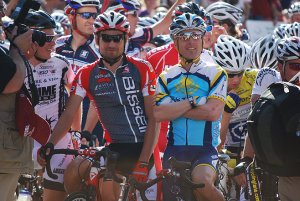 Comments