Crits are easy... with a team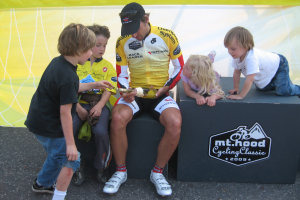 I was lucky to get some
Pear in a Bottle Brandy
on the podium yesterday. Lucky because I would've made an ass of myself with Champagne.
The crit went pretty much according to plan. I was a little worried since I'm not a great crit rider, but the team made it easy. Omer,
Morgan
and
Burke
rode the front and Graham took care of me whenever I fell out of position or something. My job was to just follow Chris Baldwin around.
We let a break go early so they'd take the time bonuses. Somehow
Adam Switters
managed to get up there again after his long day yesterday. They stayed away till the finish and had about 34 seconds on the field. I just finished with Baldwin and maintained my lead.
The podium was fun. Lots of people to talk to and pictures to take. I even had to sign some autographs, which was pretty sweet.
Nils had a good day too and managed to move up to 4th in the Masters race. A great week all around for Davis riders.
After the race the
wife
and I drove up to Seattle to visit some family before they head off for another
fishing season
. The first one without me in 14 years.
Comments