Forget the view and just keep riding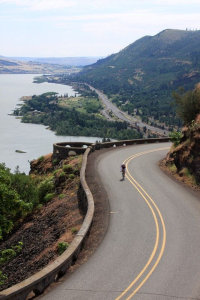 Stage 2 of the
Mt. Hood Cycling Classic
featured an 18 mile scenic time trial along the Columbia River. But with 2000 feet of elevation gain and a stiff head wind, there wasn't much time to look around.
Nothing really interesting to report from the race, just lots of cross winds that weren't too friendly to the disc. I finished second, 3 seconds behind Chris Baldwin. I've been TTing well lately but to almost match a two time national TT champion is pretty cool.
Since I kept the GC lead I'll actually get to wear the yellow leader's jersey tomorrow. I opted out of wearing the yellow skinsuit today, I thought the banana suit would be a bit much and our Giordana ones are super fast anyway.
Tomorrow will be an epic 92 mile, 10,500 foot day and I think Omer summed it up best on the
MHCC Blog
, "The biggest thing we have going for us right now is that Mach has shown how strong he is - especially after yesterday's stage. As a team, everyone is looking at us. We're going to ride hard enough to demoralize the field and then everyone who wants to win is going to have to ride away from Paul, Morgan, and Burke."
Comments