And now the Pressure is On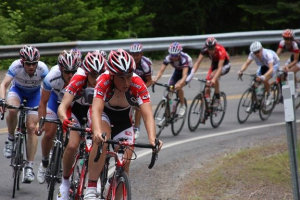 Stage 1 was killer. Up 9 miles, down 9 miles. 5 times up, 4 times down. Burke warned us before the start that the first lap feels easy, but then it just wears on you. He was right.
A break went early with some guys bridging up later. With a lap and a half to go the break was 2 guys at 2:30. That's when Omer and Graham went to the front to real it back in.
They slayed themselves and brought back the last guy, Dan Martin, right before the final 3k climb. Some other riders started the action early so Morgan and I just continued it. We were doing a good job of forcing the other riders to pull and I finally got away with about 1.5k to go, probably a bit early.
With about 500 meters left
Morgan
caught me. I was a little relieved but looked back to see we still had a decent gap. At 200 meters I caught Morgan, looked back again and decided to go for. Guys can make up 50 meters easy if they unleash a sprint and I didn't want to get caught. So after a bunch of second places I finally got to post it.
So Bisselled it again, me and Morgan, 1, 2 and we're also 1, 2 in the GC. It's nice to win, but the race is far from over. With
Bissell
positioned so well in the GC, the next two stages will be game on.
For those of you back home, there are a number of people posting live twitter updates during the race. The official race twitter is
mthoodcc
and then
Heidi Swift
and
Cal Giant
were updating from the cars. Race results have been post to
mthoodcyclingclass.com
pretty quickly.
In other news, Conference Road Race Champion Nils Johnson wins the Masters Race. Another Davis rider representing.
Comments