First of Five in Hood River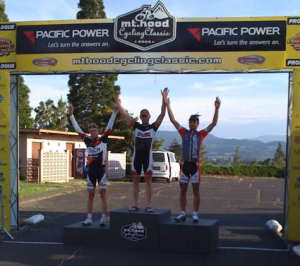 Drove up to Hood River with the boss man
Glen Mitchell
yesterday for my first go at the
Mt. Hood Cycling Classic
. The
Cherry Blossom Race
gave me a little introduction to the area but all the courses are different for this one.
The prologue didn't start till 5:30 so we played that waiting game for most of the day. A little ride in the morning to check out the TT course followed by a little work.
Today's prologue was a short 5k TT with a little hill top finish. I'd never done a TT that short before so didn't know what to expect. I gave it a go and finished 2nd.
Morgan
was 4th and
Burke
was 8th. Not a bad start.
Today was good and all, but the real racing starts tomorrow. The long hilly days are sure to shake things up and the
Bissell
boys are ready.
Oh and I got the "How you doin' Burke" today. That was quickly followed by, "Oh sorry, it was the way the sun hit your face."
Comments