Skins: So cool they should spell it with a Z
Wednesday, April 15, 2009 -
General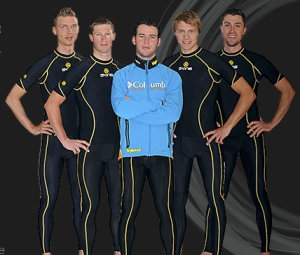 During my recent travels I've noticed a change in the pre-race banter. You still hear, "How many bottles you takin'?" "How much do these wheels weigh?" and "Ah damn, the
Bissell
guys are here again." But now there is some new stuff like "Did you get Small or Extra-Small?" and "Underwear? Sure, so I don't have to wash 'em."
These new questions are motivated by
Skins
, gradient compression performance equipment that enhances performance in training, competition and recovery. Basically, full length
spandex
that you wear after rides to help recovery. They're best for after hard rides but some wear them all the time, and others even wear two pairs for that added support. They're taking over the peloton.
The problem I'm having is with my wife, she won't stop making fun of me about them. She says hurtful things like, "Not getting enough Spandex so now you're wearing it all the time?" and "Ha, the male version of
Spanx
." Sometimes she just looks at me and laughs.
I don't understand, I'm doing it to improve my performance (on the bike!). Plus, all the cool kids are doing it. What is wrong with that?
So now I'm forced to wear them just after hard workouts and when I'm on the road. Ah, the challenges of balancing a wife with cycling.
Comments