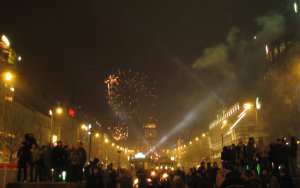 Finally have time to write something about the trip to the Czech.
After Christmas we saw the sights in Prague and some other close cities. Regensburg in Germany was nice. Everything was well kept, clean and pretty. It was also good to see the Mach name alive and well over there and on people's minds in even the most
intimate of moments
.
New years was definitely the highlight. I drank most of a bottle of champagne and then we headed out to Wenceslas Square to watch the fireworks. I was thoroughly entertained and I'm not exactly sure why. I think it was because I hadn't seen fireworks in 14 years. I've always been on the boat in Alaska during the 4th of July.
In America people would frown upon so many drunk people with fireworks, but there, it was just part of the tradition.
Overall, it was a good trip. I got to see the family and the sights again now that I'm a older and will actually remember them. But, it is good to be back and into my research and riding routine.
Comments