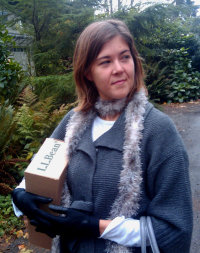 Spent the last week visiting every family member that lives in the Greater Seattle Area.
Highlights included; going to a mall the day after there was a
shooting
, Sara dressing up as a "35 year old conservative mother," and the Moore family Thanksgiving dinner on Lake Kachess, where the girl to guy ratio was 4:1. Why are there no sons?
On Black Friday Sara convinced me that we should get the "cute" silver bluetooth even though it said "Hands-Free Headset for Her" right on the box (in big letters).
We flew back early Saturday morning so I could still get some good riding in over the weekend and relax a little bit.
While I enjoy visiting the family, the whirlwind format is not really my favorite way to go about it. Of course it was a lot more pleasant than that Thanksgiving a couple years go when we had a wedding to plan.
Comments