Friday, November 28, 2008 -
General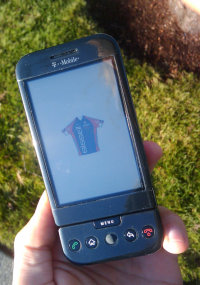 Last week the wife and I got a couple of
T-Mobile G1s
. We went with the G1 because of it's full keyboard and not wanting to be one of the 20 gazillion iPhone owners.
This has resulted in a lot less talking and a lot more across the room IMing.
Anyway, the G1 is much cooler than the iPhone. Does the iPhone have a flashlight application that displays the Bissell jersey? I think not. Boom. I win.
Now Ben, Greg and Glen should go ahead and role up their "Sent by iPhone" messages and stick them you know where... in their spokes, preferably while they're spinning.
Comments