Wednesday, November 12, 2008 -
General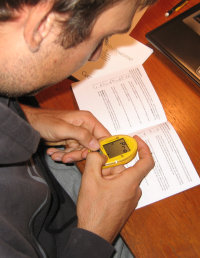 Yesterday I joined the PowerTap
club
cult. My wife snapped this picture of me activating the "Pro" setting. I can't tell you about all the wonders it unlocks because, well, if you're a pro you already know and if you're not, sorry.
I used the wheel for the first time today on the Napa ride and was blowing
Staz 08
out of the water. I don't know if it was due to the
Prolong Energy
I've been trying or just the standard boost that everyone gets once they start using a PowerTap.
I may share some power graphs later. I just need to figure out how to scale up the data by 10 or 15 percent. PowerAgent doesn't seem to have that feature.
Comments