Farewell Jamis Xenith Team, Farewell
Friday, September 26, 2008 -
General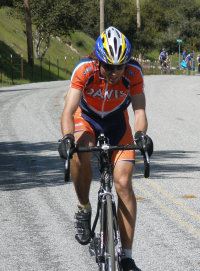 Yesterday, after so many good years together, I had to sell you. I'm sorry, but there was no room in the apartment and Sara is unwavering in her quest to keep the bedroom free of bikes.
While I didn't win my first race with you, or get my Cat. 1 with you, you were there for everything in between.
Do you remember our first win together? I do. It was the Cat. 4 Sea Otter Road Race in 2006. We dominated the field along with Greg's Litespeed and Nils' Felt, see picture.
I will forever hold dear the afternoons we spent on Mix Canyon and the long hours riding at ME on the flat roads west of Davis. During these times we built an unbreakable bond that will not be lost.
I am certain you and Jay will be happy together. And I know you will teach him the joys of riding hard, climbing fast and dropping Jim Mansoor on the race ride, just as you did me.
Jamis Xenith Team, thank you for all the good times. You will not be forgotten.
Comments