Saturday, September 20, 2008 -
General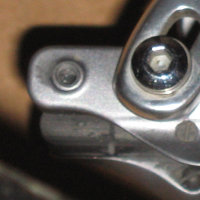 This tip is for those of you who spent the extra $40 for the
SRAM Force Brakes
instead of the
Rival
just to save the 7 grams.
This tip is not for those of you who got the Force just so the brakes would say "Force" instead of "Rival."
Anyway, I learned from experience this last weekend that you don't actually need those little screws that hold in the brake pads. Those things are literally holding you back. Without them you save about 2 grams of uselessness.
You can also save your worn out brake pads to use during hill climbs. Some smart thinking is all it takes to put yourself another 5 grams ahead of the competition. No fitness necessary.
Comments