Myke at Velo City is a Super Badass
Thursday, August 28, 2008 -
General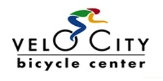 I picked up the word "badass" from the junior kids at
San Dimas
. I've been using it interchangeably with "awesome" and "sweet." Recently I found it fit perfect for Myke at
Velo City
in Winters.
So I was doing the long loop before the Race Ride on Tuesday and at some point I was made aware that my rear wheel was wabbling all over the place. Too much power I guess.
We made it to Winters a bit early so I went over to Velo City to see what they could do. I explained the whole thing about the wheel and wanting to still meet the race ride and only having 5 minutes. As I was gabbing away Myke said, "Well quit talking and let me fix it."
He took the bike to the back and fixed the spoke. I was ready to go with time to spare. Thanks Myke.
PS. It appears that Professional Video Gaming
has a drug problem
. I know, crazy, you can go pro in video games.
Comments