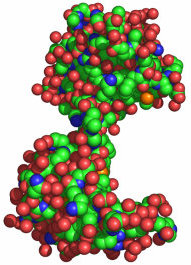 Made you look, but I mean balls in the
mathematical
sense. Sorry.
My wife always complains that I do too much cycling and not enough research. I don't see the problem, but I'll humor her.
This is the first in a multi-part series on measuring the surface and volume of a union of spheres in 3-dimensions, like the object on the right.
The work is motivated by applications in
Computational Biology
. It has been shown that the surface area of a molecule is proportional to its interaction with the surrounding water.
Specifically, we are interested in the Accessible Surface Area (ASA). We are looking for how much area is available to a probe representing the water. The probe is modeled by a sphere of radius 1.4
angstrom
, the approximate radius of a water molecule.
Bellow is an example is 2-dimensions. The
atoms
are red, the
probe
is green and the
ASA
is blue.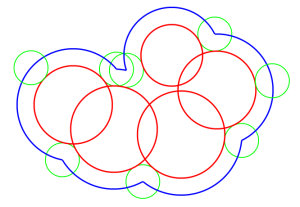 As you can see, the ASA can then be computed as the surface area of the spheres if each radius is increased by the probe radius.
Usually we are looking for the accessible surface of each atom individually. We then weight the values based on the atom type. Doing this provides more meaningful results than just using the total area.
Comments