Short Time Trial, Long Drive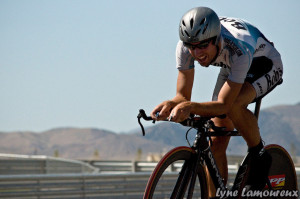 The last stage of the
Tour of Utah
was a 7.5 mile time trial. It was pretty flat with a bunch of turns. A nice course.
There was definitely a lack of motivation in most of the peloton. While I didn't feel fresh I decided to go hard because this is the Tour of Utah after all. The times in my range were all pretty close. I ended up 28th, 10 seconds out of the top 20.
Jesse and Max made fun of all my "useless" effort at the finish line, but according to my calculations I moved up to 25th in the GC by 4 seconds. Even though I'm a PhD candidate in Applied Math I'm going to wait for the official results before I celebrate. Our U23 rider
Erik Slack
also moved up to 4th.
The real show was the battle for the top GC spot.
Jeff Louder
was 7 seconds down on
Blake Caldwell
going into the last stage. The
Health Net
boys had Louder 8 seconds up about half way through. It looks like he maintained that pace and took the win.
Oh and did I say I felt good on Saturday. This picture was taken by my man
Carson Blume
at the end of the stage.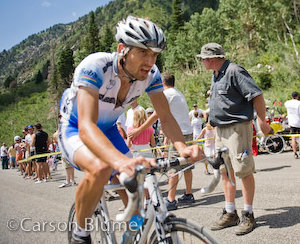 Spent the rest of the day driving back to Davis. Over the last 10 days I've become very familiar with I-5, I-15 and the I-80.
Want to thank the
Bobs-Bicyles.com
guys again for letting me race with them, it was a blast.
Comments