I'm off to Seek my Fortune, Again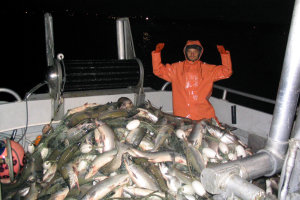 Every summer, this will be number 14, I head up to
Pederson Point Alaska
to take part in the
Bristol Bay Salmon Season
. My family owns a boat up there and my dad, brother and I work it every year. This is commercial fishing folks; all work and no play. I've been trying to get out of it for years but my mother knows how to lay down a pretty mean guilt trip.
So what kind of hardship will this trip dish out? Well, 3 weeks of no research, 3 weeks without my wife and 3 weeks without my bike. The research, well no one wants to work anyway, my wife will actually enjoy it, but the bike, oh the bike.
Through high school and undergrad, I was a runner. Alaska was great because it gave me a mandatory 4-6 weeks off. This kept me relatively injury free, but I was always a little behind for cross country season in the fall. Now that I'm a cyclist, it comes at the worst possible time, the middle of the season.
What am I doing to deal with it? First, I'm only going for 3 weeks this year, down from 6 last year. Second, I trained hard up to now so I'm due for some time off anyway. And lastly, I have some solid goals for when I get back to keep me motivated. All of these are improvements over last year.
So what does this all mean? Well, I'll come back ready to start riding and racing hard through the end of the season. Elite Nationals is going to hurt, but I should be rolling nicely by Utah. Come September and Collegiate Track Nationals, I'll be back to crushing the dreams of America's youth.
So why do I go? The family business obligation is a major part of it and I do come back with a nice paycheck. But I'm really hoping this will be my last year.
I put together some
pictures from 2004 and 2005
. The place is like a time capsule, nothing ever changes, so I stopped taking pictures. Should give you a bit of an idea of what I do.
While I'm up there I'll be completely out of email and cell phone range. But don't forget about
paulmach.com
, there will be some awesome preposted content coming your way soon.
Comments