National Champs in the House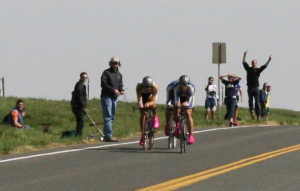 At the finish of the TTT Judd was jumping up and down like mad. Yeah, well, we were kind of a
big deal
(
picture
). That's right, we took the 2008 Men's Division I National Team Time Trial Championship. Now I get those cool bars on my jersey. It wasn't the smoothest TTT ever, but we ended up 9 seconds ahead anyway.
As predicted the race for second was more surprising with CU Boulder 33 seconds ahead of Lees McRae. The Women got 4th with Stanford winning. These results sent us to the top of the team omnium.
Brendan was my volunteer mechanic today. He did an okay job. He drove the van and got the bikes all setup. But then he started giving me attitude, something about being tired. That was it for me, so he's out. Amanda stepped in to clean my bar tape, but I still had to do a lot of the work myself. Someone needs to step up here.
Tomorrow is the road race. It should be killer. Some big hills at altitude will put the pressure on the whole field. Stay tuned for updates.
Below we have a picture of a national champ, the women starting and for the ladies a picture of Tyler's butt so you can see how to pin a number.
"Is their masseuse hot, or was she a chick?"

P.S. Thanks to the Mooney family for their support.
P.P.S. This poll was suggested by Phil the Fast about Phil the ... other. This is new feature of the site and let me know if it doesn't work right.
Warning
: Use of undefined constant REMOTE_ADDR - assumed 'REMOTE_ADDR' (this will throw an Error in a future version of PHP) in
/home/public/includes/poll.php
on line
39
How many Davis riders will finish
ahead of CSU's Phil Mann?
4
4.3%
All of them
26.1%
Stupid Question,
he won't finish
69.6%
Total Votes: 23

To vote,
use the standard version
of this page.
Comments