I'm So Excited, but I Just Can't Hide It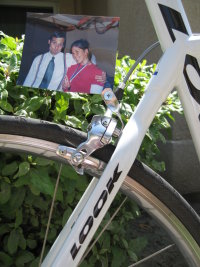 I'm excited because the nationals crew includes WCCC Secret Crush, Phil Mooney. Yes, I know he's taken, but stick with me. The WCCC's Biggest Troublemaker, Marisa McAdler, is also going. Things could get crazy and I'll have all the gossip right here, whether it's true or not.
Yesterday I swung by
Velo City
in Winters and Myke set me up with one of these. Not only will it hold my frame number, but it will add to my
Euro Pro look
. No more of that janky, behind the head tube, number placement like I had at San Dimas. I'll be cruzin' just like a true pro at nationals.
To pass the time between rides I watched
Enchanted
with the wife. McDreamy was up to his old tricks; looking for love in all the wrong places and then realizing he's actually searching for a fairytale relationship. Can we say typecast?
Comments