UCD RTH in the WCCC CC TTT at UNR
The team time trial was Sunday morning on a short and fast 7 mile loop. Everything went pretty typical with Davis winning every TTT; except for the Women's B because we didn't have one. Way to go Davis! I'd like to apologize to the other teams, whose dreams we crushed.
But the real action was at the crit. Davis showed the conference yet again that we win races, taking number 13 for the season (out of 16, and that's just for Men's As). We did it by attacking and riding hard.
The course was described as a "technical" half mile loop. I guess a downhill 120 degree off camber turn is technical. So it must have been my hot wife's fault the corner was sketchy. She was taking pictures there during the race and was pretty distracting. I'll tell her to be more careful next time. Anyway, there were a lot of crashes. Shawn started a pile-up and Phil crashed while he was off the front.Victoria Tri-Comp Open Corsa Elite Pro CX Race 6 Tires with DuraSkin what?
Here's how it played out. Phil was off the front almost immediately.When he came back I countered and was off with Ryan Parnes from Stanford. He wouldn't pull through and out sprinted me for the primes. Lame, so I stopped working and we drifted back to the pack.
At this point it was only me and Tyler left in the race so we just covered stuff. Phil came back in after his crash and promptly attacked. Awesome. T-bags countered, shoved everyone into the hurt locker and turned out the lights. As everyone was confused and disoriented, I figured it would be a good time for a surprise attack. There were about 7 laps left at this point.
Ryan tried to follow again but I got a jump on him and he never caught up. With a Stanford and Davis guy off the front, the field slowed down. It took Stanford a few laps to realize that Ryan was going to come back and by that time I had like 45 seconds on the field. That was enough for the win.
It was an all out team effort to just keep attacking till the field gave up. It was similar to what we did at the Stanford Crit, but this was a harder course so it was a little easier to pull off.
Below is a picture of Phil asking Evan Pickett to pull through. They were off the front with a lap to go and he just wanted to sit on. In the end Tyler was 4th and Phil was 5th. 3 in the top 5 ain't bad.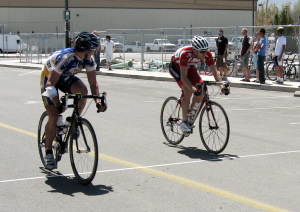 Comments