Tuesday, February 26, 2008 -
General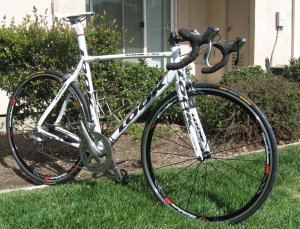 After months of obsession I finally have a new bike. It's a '07 Look 595 with Dura Ace. Many thanks to Alan and the guys at Foy's Bike Shop for their help.
Took it out for its first spin yesterday and it was nice and smooth. I rode the flats of Davis easy which isn't a good test for a new machine. Today is SFR and the race ride. That should be a good indicator.
On an unrelated note, last week Sara started helping out with swim practices at the high school. I told her I'm an expert at the breaststroke if she needs some pointers. I tried the joke several times, she never found it funny.
Comments