Thursday, February 14, 2008 -
General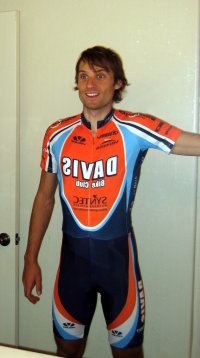 Made it Phoenix Arizona for the Valley of the Sun Stage Race that starts tomorrow. This is my first time in Arizona and it looks like it gets really hot here.
The day pretty much included the drive down, 12 hours. The only interesting thing that happened was that we got the finger from a cop in LA. Way to keep the peace buddy. The funny thing is we don't even know what we did. Maybe he just doesn't like bikers.
When we finally got down here we found out the house had been robed of its living room furniture and TV the night before. I know what you're thinking, but it's actually a really nice place.
The new DBC gear came in so I tried it on right away. Yep, I'm pretty excited, as you can see.
Comments