Four of us Aggie racers went down to SoCal last weekend for the UCLA collegiate races. I already wrote up a report about the
general happenings
. Here's some more detail.
I wanted to make the drive so I could test out all the time trial gear before the big Valley of the Sun race this weekend. The time trial started at noon on Saturday and to save some cash we drove down in the morning. It was a typical almost flat course. Basically, on the way out I felt bad and on the way back I felt better. This was probably due to the wind direction. I won by a second, which just means I was more lucky.
What I learned is that I need to warmup. 15 minutes on the bike is not a warmup! I also learned a little more about how hard I can actually go. Something you can only get from experience.
On Sunday the road race was five laps of seven miles up followed by seven miles down. The ever strong U23 champion Max Jenkins took off from the gun. After one lap he had four minutes and that freaked the field out a bit. Three of us finally caught him a lap and a half later. The deciding point of the race was at the top of the hill for the second to last time. I upped the pace and the other riders started to get gapped off. Max saw this and attacked just right so he wouldn't fill the hole. That was it, we had about 30 feet at the top of the hill and never looked back. At the end Max was toast from being off the front all day and I rode away from him up the last hill.
So all in all, it was a fun weekend. I'm excited about what the UC Davis Men's As will do this season because there are five other guys on the team who are just as capable.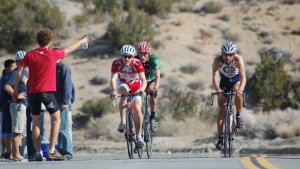 Comments